I have officially read my 30 books that I wanted to read for the year! Anything now is bonus.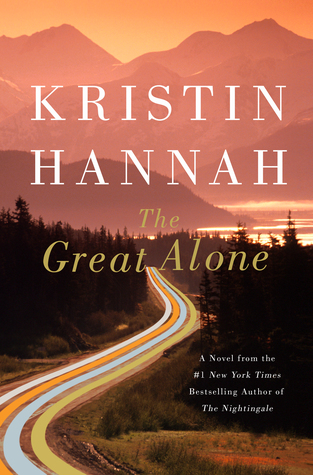 The Great Alone by Kristin Hannah
This might be one of my top books for the year so far. It wasn't the one that I read the quickest, it maybe wasn't the most "enjoyable" (I did enjoy it, but I mean in comparison to a light and fluffy chick lit book). But as a real literary book that has a bunch of depth but is still readable, this book is it.
Leni and her parents move to Alaska to homestead in the 70's. It's a turbulent time, and her dad has changed since being released as a POW from the Vietnam war. Leni finds herself in Alaska and this novel is an exploration of that, her family, the friends she makes.
For me, I love watching Alaska shows, so that's what drew me to this book in the first place. (Alaska: The Last Frontier anyone?) But I felt like this book had some great character development, it was thought provoking and educational.
The Death of Mrs. Westaway by Ruth Ware
This book is about Hal, a young woman who is living day by day and has loan sharks after her. When she gets a letter telling her that her grandmother has died and she will get an inheritance, it seems too good to be true. Especially since she knows that this woman couldn't possibly be her grandmother. She is desperate so plans to deceive this family in order to come into the money anyways. Unfortunately things begin to unravel once she gets to the estate that belonged to Mrs. Westaway.
I did enjoy this book, but not as much as some of Ruth Ware's books. I loved In a Dark, Dark Wood and the Lying Game. This one was more along the lines of the Woman in Cabin 10. Left me wanting a bit more from it.
I've Got My Eyes on You by Mary Higgins Clark
What can I say about this besides the fact that it's classic Mary Higgins Clark. A young girl is murdered, the book takes on the perspective of her family, a couple suspects and the detective. I found it slightly predictable and a few parts surprised me as being unrealistic, but this was a shorter book and an easy read.