Wow! What a month for books. I read 7 books this month and they were all amazing! How did I read 7 books? I picked good ones. Books that I wasn't able to put down. And I read all the time. We had a rainy camping weekend, I read in the trailer, I read outside, I read on the drive there and home. I didn't watch TV, I read. I didn't take care of my kids, I read. Just kidding...kind of.

The Couple Next Door by Shari Lapena
I loved this book! It got me intrigued from the get go and I basically read the whole thing on a Sunday morning. This is a thriller/mystery type, but is more detective based than Girl on the Train type of thing.
It's about a couple who go to a dinner party next door (in a semi-detached house) and leave their baby sleeping at home. When they get home their baby is gone. This book follows the mystery of what happened and who took the baby.
My first thought when I read the premise of this book was "who leaves their baby home alone?" but luckily they dealt with that right from the beginning. They did leave their baby home alone but also acknowledged that it was a stupid thing to do...so at least that didn't annoy me throughout the entire book.
The Sleeping Beauty Killer by Mary Higgins Clark and Alafair Burke
I have read these books out of order, which isn't ideal, but it still works. These books follow Laurie Moran as she is a creating a reality tv show that is essentially about a cold case. It's always nice to have characters that you like and get to know and I like when they are carried on throughout a series. I would say I liked this book more than I have liked some of the other books in the series.
I was also curious about Mary Higgins Clark's co-writer and how that worked. So I will share that knowledge! From what I have gathered, the two writers meet to discuss the book. Alafair Burke then actually writes the book, and after every version, Mary Higgins Clark goes over it and makes notes and adjustments. Mary Higgins Clark is 90 years old! So the fact that she's still involved in these books at all is amazing! I find the books follow her style, but feel a bit more updated and would bring in more modern aspects (like Uber in this case) that Mary Higgins Clark might not have brought in if she was writing it on her own.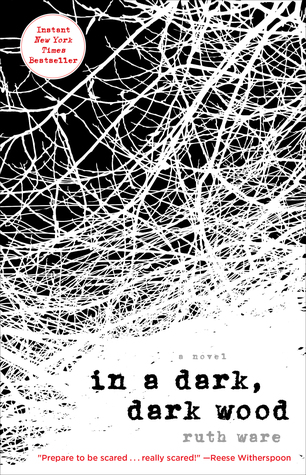 In a Dark, Dark Wood by Ruth Ware
Another book that I loved! This is actually Ruth Ware's first book, but I had read The Woman in Cabin 10 and The Lying Game first. I read this book very quickly as well. It's about a girl who is invited to her old best friend's "hen" night (or a bachelorette party for us Canadians). She hadn't spoken to her friend in 10 years so was a bit confused about the invite but went anyways. They go to a glass house in the woods and from there some weird things start to happen. I think that Ruth Ware develops her characters really well which makes the books so great.
Let's all just take a minute to thank Gone Girl for bringing to our attention this genre of book, because they are great reads!
Unbroken by Laura Hillenbrand
I read this book for a new book club that I've joined. I was actually quite happy to read it as it has been sitting on my book shelf for a few years but it always just seemed to be too heavy to get into. This is an amazing book! It's heavy and depressing, but eye opening and educational. I think it's especially great for Canadians to read because they never seemed to touch on the Pacific war during World War 2 in our history classes. (Maybe if I hadn't dropped Grade 11 history...) I really didn't know that there was this big war with Japan despite knowing about Pearl Harbour and Hiroshima. I knew that those events happened but never questioned why.
For those who don't know, this book is the true story of Louie Zamperini. He was an Olympic runner who then became a soldier. His plane crashed over the pacific and he was stranded on a life raft. I don't want to give the rest away if you don't know it yet. But this is truly a remarkable story.
The Family Next Door by Sally Hepworth
I read this book in a day. So....it was good. This book is about a new neighbour who moves onto Pleasant Court. A street where everything is clearly pleasant but there isn't much depth. It's told from the perspective of this mysterious new neighbour and three other women who live on the street who all have their own issues going on. It kind of reminded me of Wisteria Lane. If you like Liane Moriarty I found this book to be very similar but actually easier to read as you get a few more details throughout the book than Liane Moriarty sometimes gives.
Bring Me Back by B.A. Paris
The librarian warned me that this was a 7 day borrow. I told her that wouldn't be a problem and read it in 2 days. This book is about a man whose girlfriend went missing 12 years ago. He is now engaged to her sister, but then signs that his girlfriend is still alive appear.
I liked this book, but like other B.A. Paris books I found there were a few plot holes and things that were a bit unbelievable. But if you can overlook those things then it's still a great read!
If I had to pick a favourite book for this month it would probably be In a Dark, Dark Wood. But that's a tough choice. I truly enjoyed every single one of these books.