I'm exhausted. Last night was one of those nights when my husband decided to snore loudly. The man falls asleep and starts snoring within about 30 seconds. I couldn't handle it and I knew I wasn't going to be able to tune it out any time soon. So I moved to the couch. I brought my pillow and used the quilt my grandma made me, the kitten snuggled in (she never snuggles with me int he bed). It was actually lovely.
Ryan came out looking for me at 5:00 this morning. So I went back to the bedroom and maybe got 10 more minutes of sleep because Pipsi thought it was time to get up and so was running around the bedroom with her jingle ball.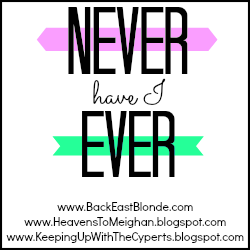 So now I am le tired. But I really wanted to link up with Nadine's Never have I ever. I thought that if I left the post until this morning things would just come to me. I think I was wrong, so this might be a short post.
Never have I ever....
Had a fake ID
It's hard to find a fake when you are a ginger. So I waited to go to the bar until I was 19.
Posted a selfie on my blog or facebook
And I hope to keep it that way. They look ridiculous. (Facebook selfies are worse than blog selfies though).
Lived by myself
I mean completely alone. I always had roommates in University and then moved out of my parents house into a house with Ryan.
Second year roommates
Won a Million Dollars
Haha just kidding! Ginger joke. But really I think if you asked my sister she would probably agree that I've never had a tan.

Second last day of our honeymoon - yes that is the tanned version

Watched any of the Star Wars movies
I don't feel the urge.
Ok that's enough for today. Back to bed....just kidding, unfortunately there's this thing called work.