I set a goal at the beginning of the year to read 30 books. At first I wanted to go for more, but thought it was unrealistic. Well apparently I should of aimed higher because by the end of July I was at 23 books and thanks to summer holidays by the time this post is being written I'm actually at 26!
I usually write about the books in here as I read them, because I tend to totally forget what a book is about after I finish it. So hopefully I can figure out what each of these books were about!
Now That You Mention It by Kristan Higgins
Nora is hit by a car and then while she thinks she is dying she hears her boyfriend hitting on another doctor. After breaking up with him she goes back to the small island she grew up on that she hasn't been to in years. Throw in some family drama and some romance. This is a typical Kristan Higgins, a light and easy read.
First Comes Love by Emily Giffin
Usually I read Emily Giffin books shortly after they come out. (My sister buys them immediately and then I read them.) But I couldn't find my sister's copy of this book and eventually just got it from the library. This book is about family dynamics. Josie and Meredith's brother died 15 years ago, this book talks about their struggles within their own relationship with each other and how their brother's death has affected them.
First off, I found it so funny because Meredith reminded me of myself and Josie was my sister. But to the extremes. Then I got annoyed because I really hated Meredith! She was whiny and miserable and mean to her sister.
Overall I liked the book despite not liking one of the main characters, but it definitely wasn't my favourite Emily Giffin book.
The Marriage Pact by Michelle Richmond
Wow, this book made me think. Alice and Jake are newlyweds and are given an unusual gift at their wedding. It's a membership into a marriage club, designed to ensure that your marriage works. But it is basically a cult. I found this fascinating because it gave so much insight into how someone could basically be tricked into a cult, especially one that really has the strength to control you.
I feel that this book wouldn't be for everyone. I'm not sure what category of books it would even fit into. But I really enjoyed it. It was super thought provoking and made me think about it even after I had finished it.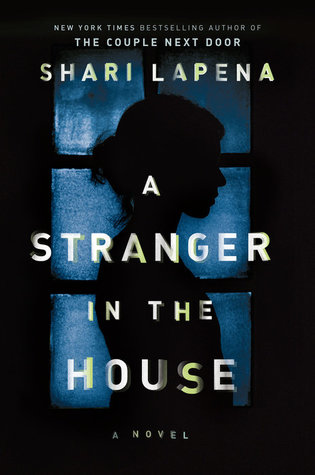 A Stranger in the House by Shari Lapena
I brought this book to a cottage with me, my mother in law started reading my copy while we were there and then took it while I was done and my sister in law read it immediately after. So we basically all finished it within a few days of each other!
This book is by the same author as The Couple Next Door which I read in June. Karen and Tom are happily married, until one day Tom comes home and Karen is gone. She had been in a car accident, but doesn't remember what happened or how she got there. Things start to unravel as they try to figure out what happened and why Karen had gone somewhere that she typically wouldn't.
I enjoyed this book but liked The Couple Next Door more. Similarly, this book goes from the perspective of both the couple and the police. I'm not sure I love this combination, I like it to be one or the other for some reason. But that being said, it was a good read and I did read it very quickly!
So that's it for this month. August is shaping up to be a good month considering that I'm 3 books in already!