Once again I'm going to tell you all of these books are good. Because when it comes down to it, if I get through a book then I generally liked it. If I don't like it I just can't make myself keep reading it. But also, if a book is only sub par and you get to the end, usually the ending makes it worth it.
One True Loves by Taylor Jenkins Reid
This is my second Taylor Jenkins Reid book, and once again I really liked it. The new genre of chick lit seems to have the requirement that your husband died. I've read about four books now where this happens...so weird.
Emma married her high school sweetheart, Jesse. Then on their first anniversary Jesse dies in a helicopter crash. It goes through her 2 year grief process very briefly until she finally decides she is ready to move on. She reconnects with a high school friend, Sam and they get engaged. Then she finds out that Jesse is actually alive.
The book is kind of heartbreaking, because you feel for Emma in that she loves them both. When your husband dies, you don't stop loving him. But she has fallen in love with Sam as well.
Despite the fact that husbands keep dying in my books, I really like this type of Chick Lit that has a bit more depth, not quite so Hallmark movie, but still an easy read.
The Silent Sister by Diane Chamberlain
Riley believes that her older sister committed suicide as a teenager. When Riley's father dies and she is cleaning out his house, she finds that not all she believed is quite true. This book goes through the discoveries that Riley makes about her family.
Although there is a murder in this book, the entire mystery aspect of the book isn't about a murder, which is a bit refreshing! I wouldn't say it's the best book that I've read, but it kept me interested and I did enjoy it.
The Break Down by B.A. Paris
So this is the second B.A. Paris book that I've read, the first being Behind Closed Doors. I had similar feelings about this book. I did enjoy it, but I felt that not everything made sense and there were some plot holes.
Cass drives a short cut through the woods during a storm and sees a car sitting there. She thinks about helping, but feels it would be unsafe for her. The next day she finds out a woman has been murdered in the woods. From then on she starts to get strange phone calls where nobody is there and starts forgetting everything and is sure she has early onset dementia like her mother did.
The thing that annoyed me the most is that this short cut through the woods was perceived as so dangerous, when it was 5 minutes from her nice house. I couldn't think of a single road where I lived that my husband would tell me not to drive down because it's unsafe, so I thought that was strange.
The book is a bit repetitive with Cass freaking out about the murder and the phone calls and thinking she's going crazy. But like all mystery books it comes together in the end.
Good As Gone by Amy Gentry
Julie is kidnapped when she is 13. 8 years later she shows up on her parents front door. It's a miracle, but suddenly her mom is questioning things. Certain aspects don't add up. Is this really her daughter?
This was a good suspense novel. I liked that the family, although they had their issues which resulted from the kidnapping, was relatively normal. I find that often in books like this, the family is completely insane and unrelatable. (Like every Gillian Flynn novel.) This book kept me guessing, although I kind of started to figure everything out about 3/4 of the way through. It wasn't brilliant, but it was good.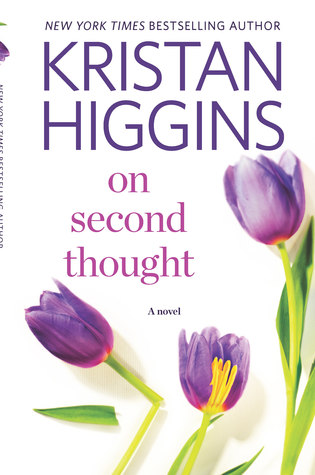 On Second Thought by Kristan Higgins
I'm definitely a Kristan Higgans fan. I loved this book. It's about two sisters, one who is recently a widow and one whose boyfriend of 11 years just broke up with her. Both of them are dealing with very different losses. They haven't always been the closest, but this brings them together. It's intertwined with aspects of love stories, but a lot of it is about their connection and friendship as well, which is definitely refreshing. I found the characters super likeable and enjoyable to read about. This is my favourite book of the month!
I'm on a bit of a reading downturn right now. I just haven't been able to get into anything new since I finished Good as Gone last week. But I guess I've been reading pretty heavily for the past few months, so maybe that's ok! Hopefully it picks up again soon, because I'm actually really enjoying reading so many great stories this year!