Time to get back at it. Reading has kind of fallen by the wayside in the past little bit. I think partially because I was reading "Career of Evil" and having a bit of trouble getting into it in the beginning, so although I wasn't reading, I wasn't reading as much as I should of been. But with my 2018 word "intentional" I'm hoping that reading becomes something that I do more often again. I found I was wasting my lunches by surfing the internet, getting nothing accomplished over an hour. So I'm back to reading on my lunch and using that time to really refresh and get lost in a book.
I have a goal to read 30 books this year. At first I wanted to set my goal at 40 books. I thought it was doable because that's still less than a book a week...but I also know that I sometimes have phases where I can't find a good book or can't get into a book. I read 24 books last year, so it's still uping my goal! (I'm going to read some Harry Potter and Nancy Drew if it doesn't look like I'm meeting my goal, haha!)
Career of Evil by Robert Galbraith
For those of you who don't know, these books are actually written by JK Rowling. They are about Cormoran Strike, a private detective, and Robin Ellacott, his assistant. This is the third book in the series. I honestly started reading this book about a year ago. I think it was too big and I just couldn't get into it because I was overwhelmed by the size. (It's not that big, just too big for me at the time.) I didn't really give it a fair shot. Once I started reading it though it was great. I probably read the last half of it in one night and couldn't put it down. Ryan wondered what I was doing and said I don't usually read all night long.
I find Strike and Robin totally enthralling, I love their relationship and hope that Rowling understands that Robin is as vital to the success of these books as Strike it. These books are so different from Harry Potter, but Rowling has really found a new niche. Funny thing is while I was reading one day Parker said "is that a Pe-a Potter (Harry Potter) book?" I have no idea why he would relate them as it looks nothing like a Harry Potter book!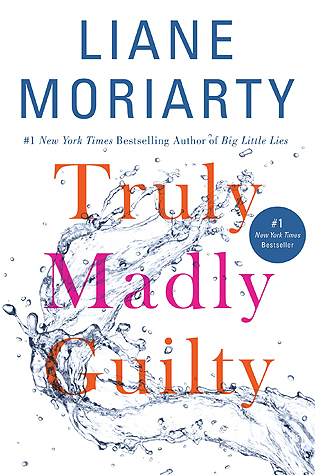 Truly Madly Guilty by Liane Moriarty
I'm a big Liane Moriarty fan. I was kind of worried about this book though because the reviews weren't great. 6 adults and 3 kids are at a BBQ. Something terrible happens, but it takes quite a while for you to find out what happens. I think what annoyed me about it was that I understood for suspense reasons why you didn't know what happened, but from a storyline perspective it didn't really make sense. The story was so vague, where it shouldn't of been. Conversations that seemed like they were missing parts of them, characters who were missing because you weren't supposed to know what happened to them.
I spent the first half of the book kind of skipping ahead chapters because I couldn't stand the suspense. The last half of the book I really enjoyed though. I think you have to go in with low expectations. The one review I read said that it's more about the characters than the story, which is an interesting way to look at it. And the characters were interesting.
So overall it's a decent read. Not amazing, but not terrible. I don't know. Not sure what else to say about it. Reese Witherspoon and Nicole Kidman have optioned the film rights. I can see how it could be a movie or mini-series similar to Big Little Lies as it's a very similar style to Big Little Lies. There is a lot going on with the characters that you could dig into deeper.
The Best Man by Kristan Higgins
You may recall that I'm a Kristan Higgins fan. Her books are easy to read chick-lit. I'm slightly conflicted about this one though. I enjoyed this book, I read it quickly, it was easy to read. But I found that it had way less depth than the other books that I've read of hers. I just found out that her books are "Harlequin" novels, and it makes a lot of sense. Still an enjoyable read, but nothing mind blowing!
Faith was left at the alter by her boyfriend of 8 years because....he was gay. She left town and three years later is back. But she keeps running into Levi Cooper, her ex's best friend, and the guy that ruined her wedding.
Definitely won't be my favourite book of the month of year, but there's a few more books in this series and I'm still going to be reading them!
The Perfect Match by Kristan Higgins
This is the second book in the Blue Heron series, The Best Man was the first. I had the same feelings about this book. I enjoy the fact that it's a series, because although the book is about a different person within the family, it has a lot of the same characters. It's always nice to see characters that you've enjoyed in subsequent books. This book is definitely a Hallmark movie though. It's light and easy and fairly predictable. Nothing mind blowing. But I still enjoyed it and read it in about two days!