Anyone who knows me knows that I'm not really a sports kind of girl. But you give me a sport where Canada actually has a chance of doing well (because lets face it, we usually choke) and I'm all for it! The winter olympics are my favourite. Canada comes together and the energy in this country is unbelievable.
We typically don't get that from our sports leagues. The Blue Jays and the Maple Leafs aren't generally the best teams there are. Until this year. The Jays have been incredible. And as our country's only major league baseball team, they have united the entire country and were favourited to win this year's world series. And then they lost the first two games... talk about nerve wracking!
Last night's game was scary. It was all or nothing for the Jays, but luckily Bautista saved the day and we are on to the next series!
There's nothing like the feeling of an entire family or a group of friends sitting together to watch important games. I just love the energy and I love seeing my country join together for something. Oh and I also love watching this team when they win, because they seriously all look like they are best friends.
And you know I've been watching too much baseball when I can tell you the order of the Jays line up... I think my mom was shocked.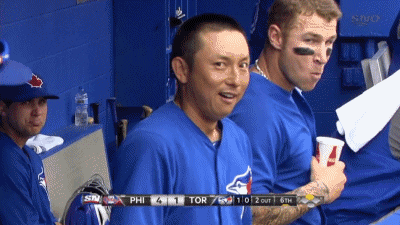 "Just swing, just throw, just catch. Don't think everybody. Just win." - Kawasaki