I pretty much always have a book on the go. I've been a reader my entire life (except when I was in University, then pleasure reading went on pause.) I've read a few books this summer, some good, some great, some just meh. I have this struggle with putting books down that I'm not enjoying. Even if I don't like it I want to know what happens. I could just google it, but I never seem smart enough to do that.
The One & Only - Emily Giffin
I'm a huge Emily Giffin fan. This book was slightly different than her typical book, but I still enjoyed it. The reviews on Goodreads were terrible though! I don't want to say much more because I don't want to give anything away, but it's not the writing that people disliked, it's the topics discussed in the book. I still give it a thumbs up though...
Wild - Cheryl Strayed
This book was tough for me at first. I found I couldn't connect with Cheryl when she said stuff like: He asked if I had tried Heroin and I hadn't so we did it. Pardon? And when she got pregnant she says "
I

got an abortion and learned how to make dehydrated tuna flakes and turkey jerky and took a refresher course on basic first aid and practiced using my water purifier in my kitchen sink."

This drove me nuts. You don't just pass by abortion like that, as if it's completely insignificant.
Anyways, the book got better. Once she was out hiking the trail for months at a time and there was no heroin or pregnancy, she was easier to relate to. I would recommend this book.
The Matched Series - Ally Condie
I liked the first one. Typical dystopian with a love triangle. Nothing amazing, but it was good. Then the second one I didn't even want to finish. It was just boring. But for some reason I read the second one and the third one because I wanted to know what happened. This is one of those books that I should have just googled the ending for.
The Husband's Secret - Liane Moriarty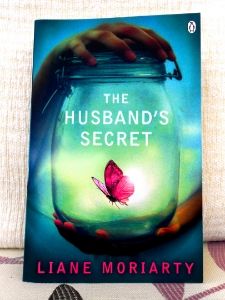 This is on everyone's book club list I think. I thought it was really good. Some secrets you find out about early on, some take you a bit longer and keep you guessing. It's about multiple families but they all come together and are related in some way. Definitely a good read. Really makes you think that you never really know what's going on in other people's lives, or even in those lives that are deeply intertwined with your own.
What have you been reading lately?